Introduction to Campervan Cooking
You'll discover all you need to know about cooking in a campervan, whether your preferred method of cooking is a full roast or banana bread.
Travelling by motorhome or campervan allows us to choose where we want to go, where we want to stay, and what we want to do when we get there. The need to dine out every day or go to the depressingly constant daily buffet, where you'll undoubtedly eat too much of the wrong stuff, is no longer necessary.
If you go on a motorhome or campervan journey for more than a few weeks, you'll start desiring basic foods or your favourite dishes, such as cheese on toast or roast chicken. If you equip your campervan cooking place properly, everything is possible; your RV meals will be five-star!
How to Set Up Your Campervan Kitchen for Cooking Success
Ovens and Grills for Motorhomes and Campervans
Most modern RVs and some campervans have an oven. Gas is nearly often used to power motorhomes and campervan ovens. Some ovens have a grill, which may be either gas or electric.
If you are purchasing a new motorhome, you should examine if you need both and consult with the dealer about the setup and power type.
Ovens are often placed on top of refrigerators/freezers and may be fairly high, making them a potential danger for short people. Before you buy an oven for your campervan cooking, keep your motorhome's weight limit in mind.
Unless this is a defining feature and a must-have while shopping for a used motorhome, you may have a harder time finding the perfect RV.
Microwaves for RVs
Unless you're cooking in a massive campervan, odds are you won't be able to have both an oven and a microwave. As long as you have access to EHU, you are welcome to bring along a small microwave with a low-power output if you require one or the other.
We did some research on this a few months ago, and our motorhome microwave buying guide is available here or by following the link below.
The dangers of microwave placement are heightened if there is a higher likelihood of extremely hot liquids in containers, possibly above head height. Consider this if you want to retrofit a microwave into a prior oven area above a fridge/freezer or purchase a vehicle that already has a microwave in this location.
The microwave oven may be stored in the garage and brought out to the awning or kitchen as needed.
Gas Hobs for Motorhomes and Campervans
All campervans and motorhomes include a gas cooktop with two or three rings depending on size. Campervan cooking with just a gas burner is quite doable with a little inventiveness, some chilli flakes, an onion, and a garlic clove! Both online and in the campervan cookbooks we suggest, you'll find a wealth of excellent 2-ring cooking ideas ideal for outdoor cooking.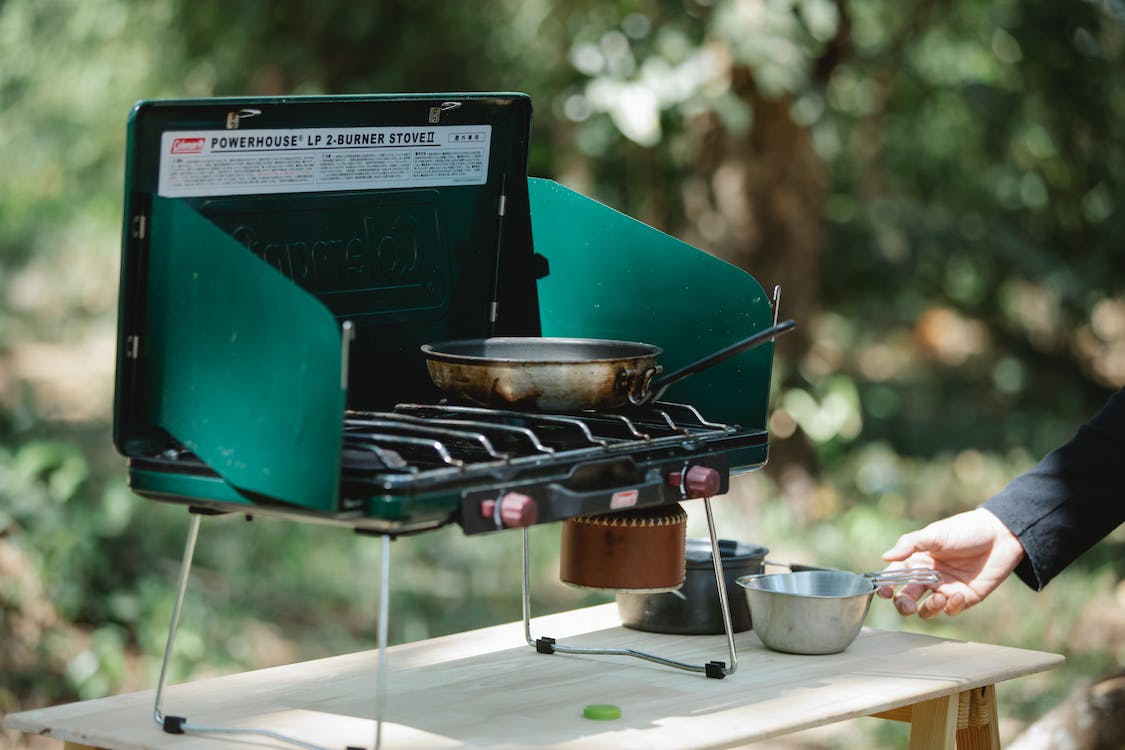 You can purchase identical models that use charcoal, but since many campgrounds do not allow charcoal BBQs, we've focused on ones that utilize gas.
Cadac
This is arguably the most well-known of these brands among RVers and campers. The Cadac has been field-tested, and it comes with a broad variety of accessories. It comes in all shapes and sizes. Here are some options:Because of the little area, some individuals are concerned about cooking in a campervan, and an outside cooking alternative may be preferred. We've discovered that keeping your desk uncluttered and the vehicle adequately ventilated may assist.
Alternative Campervan Cooking for Cooks & Foodies on the Road
There are a number of alternatives to frying or cooking fish in a campervan that are preferred by those who live in their vehicles full-time because of the mess and stench.
Some of the nicest camper van dinners we've ever had were simple, prepared outside in front of a spectacular vista and, of course, a cold beer!
Gas Grills on Wheels
Portable gas grills are much more than simply a barbecue. The most common kind consists of a metal bowl with a gas ring in the middle, with a plate or pan placed on the ring to distribute heat. You might use a regular ridged BBQ plate, a flat griddle plate, a huge grilling or frying pan, or even a pizza stone. This is topped off with a cover that allows for intense heat.
The producers of both devices state that you can cook a roast chicken with the cover on, a loaf of bread on the pizza stone, and anything in between, and these are reasonable assertions given that both of these campervan dinners are doable. The domed cover retains air, and the pan's base's water generates steam, like a traditional oven.
All manufacturers provide a variety of sizes, some with and some without legs. They may be cumbersome to pack because of their awkward form and the weight of all the plates, so plan for storage and check your baggage allowance accordingly.
All of these gadgets will connect to a gas canister, bottle, or an exterior gas outlet on your RV, making campervan cooking simple and enjoyable.
Chef Cadac Safari
Ideal for married couples or compact campervan cooking.
Folding little legs.
It's 32cm broad and weighs 3.76kg, which makes it simple to store.
Push-button start
Storage and a carrying bag are supplied.
Chef Cadac Citi
Ideal for multiple people.
42cm broad and 9.75kg in weight
Compact and simple to store
Colour selection
Push-button start
It comes with a carry bag.
Chef Cadac Grillo
Ideal for four members
65cm broad and 8kg in weight
Legs that are removable and also it has a disposable fat pan
Push-button start
This campervan cooking package includes a carry bag.
Chef Cadac Carri
This is the perfect size for four to six people.
70cm broad and 14kg in weight which makes it difficult to store.
Legs that are removable
Push-button start
The package contains a carry bag.
Cobb
Best choice for a couple
It is 33cm wide and weighs 7.5kg. It exclusively accepts screw-in gas canisters.
It has an awkward form
Push-button start
Included is a carry bag.
Plates are presented in their entirety.
Campingaz
400-Watt Party Grill Stove
Ideal for two to four people.
36cm broad and 10.7kg in weight
Works with any LPG.
Very small for campervan cooking but it's outstanding value for money
Push-button start
Included is a carry bag.
Pots and Pans with Multiple Functions
Multi-purpose pans are ideal for campervans and RVs since they save space and perform several functions. The Cadac has been field-tested, and it comes with a broad variety of accessories. It comes in all shapes and sizes. Anything above 500w is likely to create problems during peak hours and will not function with less than 10 amps of power.
RidgeMonkey Connect Combi & Steamer Set
It has a frying pan with a flat base, a multi-use pan with four sections, and a steamer tray.
Nonstick coating that may be applied on any gas ring
Handles that are detachable
It is simple to store and weighs just 2kg.
RidgeMonkey Connect Multi-Purpose Pan & Griddle Set
Includes a big pan with a griddle as a cover and a ridged frying pan.
Aluminium is lightweight.
Nonstick coating that may be applied on any gas ring
Handles and hinges are detachable.
It is simple to store and weighs just 1.4kg.
Remoska Electric Cooker
400w and two litres
EHU is required for campervan cooking.
There is no heat control gradation.
It stores easily and weighs just 3.2kg.
The handle is detachable.
Roasting, steaming, and baking may all be done in a single pot for quick and easy camping meals.
Lakeland Mini Multi Cooker
You can cook curry, soup, rice, and stews as examples of one-pot meals.
Perfect for two individuals with its 400w and 1.4 litres
There are eight digitized programs.
EHU is required.
Simple to use with a nonstick pot
It stores easily and weighs just 3.3kg.
Omnia Oven
It holds 2 litres and weighs 800g.
It is compatible with any gas ring.
Accessories may also be purchased.
Excellent for baking
Although there are many variants of this sort of campervan cooking equipment on the market, we believe our selections provide the most value for money while providing the finest functionality and quality. Campers and motorhome travellers in the UK and Europe have used all of these items successfully for months or even years.
What Equipment Should You Bring with You for Camping Cookery?
Now that you have the basics covered for cooking in your campervan, you'll want to make sure you have everything you need to prepare and serve a meal. You'll find anything from whistling kettles to unbreakable stainless steel wine glasses to multi-purpose gadgets in these categories, all of which are perfect for stocking your RV kitchen.
---
Hey there, I'm Alex, your campervan conversion expert. With 20+ years in the game and over a hundred successful transformations, I'm all about turning vans into comfy, adventure-ready homes. When I'm not in the workshop, I'm out on the road, exploring in my own custom campervan.
Author posts