Embarking on a campervan conversion project is an exciting endeavour, offering the possibility of freedom and adventure on the open road. Whether you're a novice or an experienced DIY enthusiast, this article will provide you with a comprehensive guide to transform your van into a cosy and functional mobile home. From choosing the right materials and designing the layout to maximising storage solutions and incorporating essential components like beds and sinks, we'll delve into every aspect of a successful camper van conversion.
In this article, we will explore the best materials to use for your DIY camper van conversion. We'll discuss their durability, weight, and versatility, helping you make informed decisions when it comes to selecting the perfect materials for your project. Moreover, we'll address the crucial steps involved in designing an efficient and comfortable layout that suits your specific needs and enhances your overall campervan experience.
Planning a compact living space requires ingenious storage solutions, and we'll guide you through some creative ideas to maximise storage in your small camper van conversion. From space-saving furniture to clever organisation hacks, you'll discover practical tips to make the most of every inch of your mobile home. Additionally, we'll emphasise the essential components that every DIY camper van should have, such as a comfortable bed, functional sink, and other amenities to ensure your comfort and convenience on the road.
Whether you're aiming for a stylish camper van conversion on a budget or seeking ideas to maximise space and functionality, this article has got you covered. So, let's dive in and discover the secrets to a remarkable DIY camper van conversion!
What are the best materials to use for DIY camper van conversions?
Upcycling a van into a fully-functional mobile camper is a complex but rewarding project. Choosing the suitable materials for your DIY camper van conversion is key to creating a durable, comfortable, and stylish living space on wheels. Here are some of the best materials to consider using in your custom camper van build:
Wood and Plywood
Wood is a versatile and easy material for constructing cabinets, beds, walls, and other structures in a camper van. Plywood is one of the most common types of wood used because it is affordable, strong, and can be cut to size easily. For cabinetry and furniture, lightweight bamboo plywood provides durability while reducing weight. Standard plywood grades like birch or oak work for most camper furniture. For exposed wood accents, consider hardwoods like maple or cherry, which have an attractive grain. Water-resistant wood types like teak are also popular choices.
Metals
Metals offer camper van builders distinct advantages like strength and malleability. Aluminum is one of the most widely used metals in DIY camper vans since it is corrosion-resistant yet very lightweight. Aluminium sheets or framing can build out beds, walls, storage, and more. Stainless steel has excellent corrosion resistance and a sleek look, making it ideal for kitchen counters, backsplashes, and appliances. For high-traffic flooring, diamond plate aluminium provides durability. Less common but eye-catching metals like copper sheets can add stylish accents.
Plastics and Composites
From the van's bodywork to sinks and countertops, plastics and composites allow DIY builders to create smooth, watertight camper van components. Fibreglass can mould into custom sink basins or be coated in gel for glossy counters. Acrylic sheets lend a glassy look as windows or skylights. ABS plastic can be vacuformed into customised interior pieces like console covers. Polypropylene and LDPE are lightweight plastics suitable for basins, bins, and tanks. Composite panelling like Coosa board consists of foam sandwiched between hard skins, providing rigidity and insulation for walls.
Insulation
Proper insulation is vital for temperature regulation and noise damping in camper van builds. Closed-cell spray foam provides an air-tight insulation layer when applied to walls and ceilings. Rigid foam boards made of polystyrene or polyisocyanurate also offer ample insulation with an R-value around R-5 to R-6 per inch. More budget-friendly options like fibreglass and mineral wool insulation bats can work in framed walls. Natural wool batts also insulate well while absorbing condensation. Reflective bubble insulation wraps add an extra radiant barrier.
Fabrics and Textiles
Soft surfaces make a camper van feel more like home. Upholstery fabrics like vinyl, leather, or synthetic leather are easy to wipe clean while providing comfort on seats and cushions. Water-resistant outdoor fabrics work for upholstery or removable curtains. For bedding, use breathable cotton or linen. Install colourfully patterned fabric panels on walls and ceilings to liven up smaller spaces. Add handy storage pockets with mesh fabrics. Durable woven rugs stand up to heavy use on the floor.
Choosing quality materials suited to the rigours of van life is key to maximising safety, comfort, and aesthetics in your DIY camper van conversion. Prioritise durability, lightweight, and water resistance whenever possible. With smart planning and creative use of materials like wood, metals, plastics and fabrics, you can build out the tiny home of your dreams!
How can I design the layout of my DIY camper van conversion?
Converting a van into a camper is an intricate puzzle of space planning. Optimising your camper van's layout and floor plan will make daily functions far more comfortable. Follow this guide to design your DIY camper van's interior from layout to furniture placement:
Take measurements
Measure the interior length, width, and height precisely
Note wheel wells, windows and any protrusions
Calculate the total square footage of floor space
Decide on the layout style
Common camper van layouts include:
Fixed bed – Permanent bed along one wall
Convertible bed – Bed converts from seats, table
Popup roof bed – Bed on elevating roof platform
Bathroom – Toilet and shower stall installed
Factor in:
Number of travellers
Cooking needs
Gear carried
Priority of bed length
Map appliance and fixture placement
Consider optimal placement for:
Kitchen: Sink, stove, fridge, storage
Bathroom: Toilet, shower, tankage
Electrical system: Solar panel, batteries, converters
Plumbing system: Freshwater tank, greywater tanks
Heating/cooling systems
Design furniture
Bed frame – Attached or removable? What size mattress?
Cabinets – Overhead, vertical, or under-seat?
Counters – Kitchen and fold-out tables
Seating – Swivel front seats, benches, recliners
Storage – Closet bar, hamper, hidden compartments
Add finishing touches
Personalise your camper van with the following:
Lighting – LED strip lights, sconces, lanterns
Wall décor – Painted murals, wallpaper, wood accent walls
Window treatments – Curtains, reflective shades
Flooring – Vinyl sheet, laminate planks, woven rugs
Build in flexibility
Use modular furniture for multi-function spaces
Attach components securely but make removable
Opt for folding, stowing, or collapsing furniture
By measuring meticulously, applying an efficient layout, and incorporating customised fixtures, your DIY camper van conversion can offer all the amenities of a home in a stylish, compact package.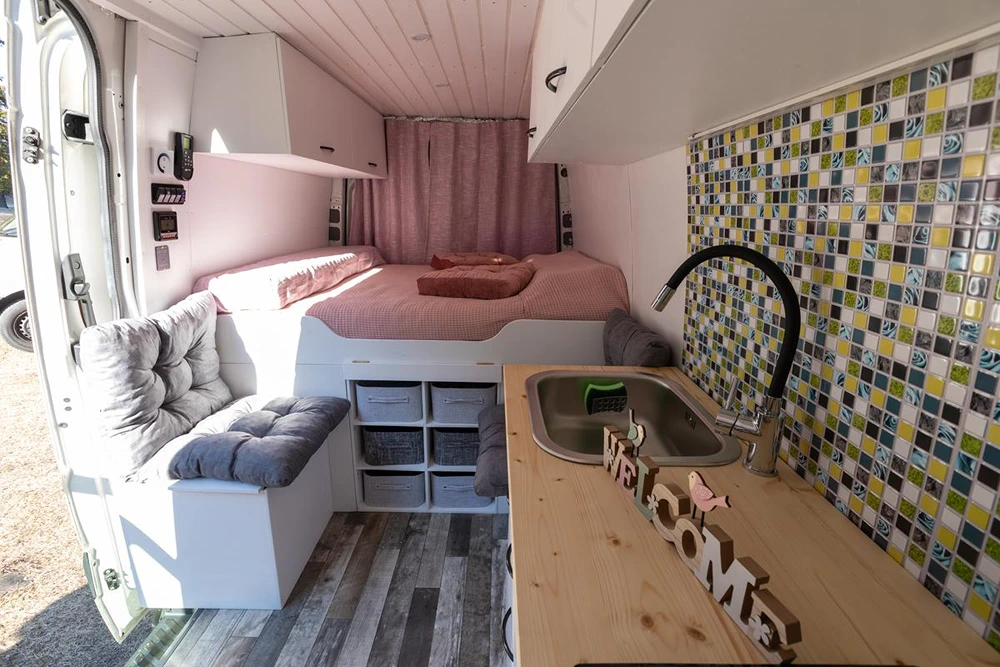 What are some creative storage solutions for small camper van conversions?
One of the biggest challenges with designing a DIY camper van conversion is figuring out smart storage to maximise limited space. From hidden compartments to space-saving designs, here are some creative storage solutions to make the most of every nook and cranny:
Optimise all walls and vertical spaces
Take advantage of vertical real estate for shelves, cabinets, and cargo nets on walls:
| Storage Type | Description |
| --- | --- |
| Overhead cabinets | Great for food, dishes, clothes, and gear storage |
| Floating shelves | Open shelves for display and easy access to items |
| Cubbies | Square storage spaces perfect for organisers and baskets |
| Door organisers | Useful for smaller items like toiletries, office supplies |
| Cargo nets | Allow visibility and access to items stored |
| Magnets | Hold knives and tools in place over metal surfaces |
Built-in furniture storage
Integrate hidden storage into beds, benches, and seating:
| Furniture | Storage Solutions |
| --- | --- |
| Benches | Accessible under-seat compartments or lift-top sections |
| Beds | Storage drawers under the platform bed base |
| Table | The leaf opens to reveal an interior storage cubby |
| Seats | Removable seat cushions give access to cavities for gear |
Optimise the floor plan
Creative use of floor space can add discreet storage areas:
Under-floor storage under raised bed platforms
Footlockers that can double as seating
Trap doors in the floor over cavities for tightly packed gear
Slide-out baskets or trays fitting under counters
Multipurpose furniture
Look for furniture that can serve more than one function:
Collapsible tables save space when not in use
Ottomans with lift-tops to provide interior storage
Fold-down sinks, stoves, work tables when not being used
Curtain dividers to section off areas as needed
With some creativity and smart dual-purpose additions, even the most compact DIY camper van can accommodate all the gear, clothing, and equipment you need for life on the road. Make the most of every inch for the ultimate in functionally efficient tiny living.
What are the essential components I need for a DIY camper van (bed, sink, etc.)?
Converting a van into a camper is an ambitious project that requires careful planning and execution. Outfitting your DIY camper with well-designed essential features will ensure comfort on the road. Consider including these fundamental camper van components:
Bed
A bed allows you to sleep soundly while camping on the road. Measure the interior space and design a bed size that fits while leaving room to walk around it. Bed options include platform beds fixed to the floor or wall, convertible beds made from folding down tables and seats, and modular components that assemble into sleeping arrangements. Include mattresses designed for RV use that won't mould.
Kitchen Facilities
You'll want basic cooking functionality while travelling in your camper van. A built-in sink with a countertop and pressurised water is ideal for food prep and cleanup. Install a propane or induction burner stove. Maximise storage with bins, cabinets, and compartments for kitchenware. A 12V mini-fridge keeps food chilled.
Water Storage
Bring water on the go with a freshwater tank, pump, and sink plumbing. Grey water tanks hold wastewater. Calculate storage capacity needs based on a number of travellers and length of trips. Install holding tanks under floors or in van cavities. Insulate tanks to prevent freezing.
Power System
An electrical system powers lighting, appliances and devices. Start with an auxiliary battery bank that charges from your van alternator while driving. Then add solar panels on the roof wired to a charge controller and inverter. Install LED lighting, 12V outlets, and monitor battery levels.
Toilet & Shower
While not essential, installing a toilet and shower adds convenience. Composting or cassette toilets are compact and boondocking-friendly. For showers, connect a sump pump and drain. Heat water with propane, electricity, or the engine coolant. A folding wet bath saves space.
Ventilation
Proper ventilation prevents condensation buildup and circulates fresh air. Install screened windows that open, roof vents, and range hoods with exterior exhaust. Consider a roof fan to actively circulate air.
Heat & AC
Stay comfortable in any weather with climate control systems designed for RVs. Roof-mounted air conditioning units work with generators to cool the interior on hot days. Propane and diesel heaters provide cosy heat during cold weather camping.
Safety Equipment
Carbon monoxide and propane alarms are critical for health and safety, along with fire extinguishers and first aid kits.
Research RV components like those listed here as you design your DIY camper van conversion. Prioritise necessities based on your planned travel style, budget, and interests to equip your van for adventure.
How do I install electrical systems like solar power in my DIY camper van?
Installing electrical systems in your camper van build allows you to power lights, appliances, devices and more off-grid. Solar power is the most popular option for DIY electrical due to its renewable energy source and independence from shore power. Follow this guide for adding solar power and other electrical components to your camper van conversion:
Plan the Electrical System
Calculate the electrical load needed to run desired lights, fridges, gadgets, etc.
Choose components that meet your power needs and budget
Draw up an electrical diagram of wire runs and connections
Install the Battery Bank
Start with deep-cycle AGM batteries suited for RV use
Link two or more 6V or 12V batteries for 12V or 24V systems
Use a vented battery box securely mounted in the van
Add the Inverter
Inverters convert DC battery power into 120V AC power
Select a pure sine wave inverter for sensitive appliances
Choose an inverter wattage capable of running your components
Wire the Solar Array
Mount solar panels on the roof for max sun exposure
Use flexible solar cables to wire panels through roof grommets
Link panels to a solar charge controller
Connect Devices
Run wires from lights, outlets, and appliances to the inverter
Install a 12V fuse box to distribute power
Add 12V cigarette lighter outlets for device charging
Monitor System Status
Mount a voltage meter to track the battery level
See the charge controller for solar input data
Watch inverter displays for power draw and load levels
With quality gear selected for your needs and everything professionally wired, you'll have reliable off-grid power for the open road. Stay powered up on your adventures!
What are some inexpensive DIY upgrades I can make to a basic camper van?
Upgrading a barebones camper van to make it homier doesn't have to blow your budget. Small DIY projects using affordable materials can transform empty cargo vans into customised campers. Consider these thrifty upgrades:
Add warm LED lighting – Use inexpensive LED strip lights to create mood lighting. Affix self-adhesive strips under cabinets for soft glow task lighting. Add battery-powered puck lights inside cabinets or closets.
Insulate with foam boards – Purchase rigid foam insulation boards to line van walls and ceilings. Cut boards to fit snugly and use spray foam as an adhesive. Great for dampening sound and improving temperature regulation.
Make removable curtains – Sew or hot glue together fabric panels to create curtains for van windows and doors. Use shower curtain rods, Velcro or magnets to hang them. Opt for blackout fabric for privacy and darkness.
Build customised beds – Construct space-saving beds from inexpensive lumber. Platform beds with under-bed storage maximise space. For modular options, repurpose IKEA bed frames, roll-out drawer beds or fold-down Murphy beds.
Add wall decor – Apply inexpensive wallpaper or fabric as wall panelling. Use painter's tape for clean edges. Install wood slat accent walls with scrap one-by-two boards. Arrange cups and plates in overhead cabinets as décor.
Organise with bins – Affordable storage bins and baskets keep clutter at bay. Label clear bins to organise food, clothing and gear. Mesh pop-up bins fit odd spaces. Shallow wall-mounted bins provide handy open storage.
Make a folding table – Build a table from hinged plywood and legs that collapses to stow against the wall when not in use. Great for dining, working on a laptop, food prep, and more.
Upholster with foam – Cut high-density upholstery foam to size and wrap it in fabric for cushions. Affix to benches, seats, trunk lids and wheel wells for comfort and custom styling.
Add portable power – Use an ice chest or plastic battery box to house a portable power station for small appliance charging and AC power on the go.
With scrap materials and DIY grit, you can customise your camper van to suit your style and needs while sticking to a lean budget. Get creative with these thrifty upgrades for van life!
How do I insulate my DIY converted camper van cost-effectively?
Proper insulation is critical for keeping your DIY camper van warm in winter, cool in summer, and comfortable year-round. Installing insulation on a budget takes planning, wise material selection, and DIY dedication. Follow these tips:
Choose Insulation Materials Wisely
Consider the R-value, cost, and ease of installation for various materials:
Spray foam – High R-value, seals well, expensive
Fibreglass batts – Inexpensive, effective, easy to install
Rigid foam boards – Middle cost, high R-value, blocks moisture
Reflective insulation – Low cost, adds radiant barrier
Install in Layers
Use a layered approach to insulation:
Spray foam to seal gaps and cavities
Rigid foam boards around the perimeter of the living space
Batt insulation between wall studs
Reflective insulation on warm roofs and floor
Reflect Radiant Heat
Add reflective surfaces to reflect heat away:
Apply reflective insulation or radiant barrier to the roof
Cover windows with Reflectix shades when parked in the sun
Use lightweight metal panels on walls as an additional barrier
Seal All Gaps
Use spray foam around openings for electrical, plumbing, and vents
Caulk edges of insulation boards and batting
Add weather stripping around doors, windows, and openings
Maintain Air Flow
Vent shower steam and cooking humidity quickly
Run vent fans to reduce condensation
Crack windows and use a roof vent
With smart planning and a mix of insulating materials, you can stay toasty warm in your DIY camper without breaking the bank. Enjoy van life in comfort!
What are the best DIY camper van conversion kits or prebuilt systems to buy?
Many camper van owners opt to purchase ready-made components to save time designing their DIY build. Camper van conversion kits and prefabricated systems integrate seamlessly into your custom van while providing modern comfort. Consider these top DIY van kit options:
All-In-One Conversion Kits
Turnkey camper van kits give you a complete camper in a box:
Pre-configured cabinetry, bed, ceiling, wiring
Available for common vans like Sprinters
Professionally designed floorplans to optimise the layout
Install frameworks and components like LEGOs
Pros: Total DIY simplified. Everything is included & pre-fitted.
Cons: More costly. Limited customisation.
Individual Components
Mix and match individual camper systems for a custom build:
Bed kits with platform frame and mattress
The roof raises for extra headroom
Prebuilt cabinet and table kits
Electrical or plumbing component bundles
Insulated wall panelling systems
Pros: Tailor systems to your needs. Cost savings.
Cons: Piecemeal process. Gaps to fill yourself.
Prefab Furniture
Integrate space-saving prefab camper furniture:
Murphy cabinet beds (vertical or horizontal)
Collapsible tables and benches
Modular storage cubes and cupboards
Multi-function sink/stove combos
Pros: Unique modern furniture. Small footprint.
Cons: Limited layout options. Price.
With pre-made camper van systems, you can design a custom DIY build faster by incorporating convenient modules for your basic camper needs. Mix and match components for the ideal balance of convenience, customisation, and cost savings.
How can I make my DIY camper van conversion stylish on a budget?
Creating an eye-catching, Instagram-worthy camper van conversion doesn't require breaking the bank. Use these budget-friendly tips to make your DIY van build as photogenic as it is functional:
Brighten with Paint
Paint the walls, ceiling, and cabinets in light, neutral colours to open up smaller spaces
Add pops of colour with vibrant accent walls or coloured cabinets
Paint the exterior with creative designs if permitted
Budget Paint Color Ideas
White, light grey, beige
Light blue, green
Glossy finish for depth
Add Texture with Wall Treatments
Affix wood accent slats or shiplap planks for visual interest
Use inexpensive wallpaper or fabric as removable panels
Paint geometric wall murals using painter's tape and test pots
Thrifty Wall Coverings
Contact paper
Remnant wallpaper
Scrap fabric
Build Display Storage
Use glass jars, baskets, and open shelves for an organised display of items
Sort items by colour for a coordinated look
Label clear storage bins using a vinyl cutter or handwritten text
Create Mood Lighting
Install inexpensive LED strip lighting under cabinets, beds, ceilings
Use remote controls to change the lighting colour
Hang Edison bulbs or string lights for a warm ambience
Add Greenery
Mount hanging planters made from foraged wood and macrame
Arrange small potted succulents in medicine cabinets or shelves
Add leafy plants to decorate and naturally filter air
With creative DIY touches, you can design a camper van that looks like a chic tiny home rather than a utility van. The possibilities are endless for customising your mobile digs on a dime!
What DIY camper van conversion ideas provide the most space and functionality?
When converting a van into a camper, maximizing usable living space is a top priority. Strategic build-outs using space-saving DIY design elements can make compact vans feel roomy and functional. Consider these van life space hacks:
Optimise Vertical Real Estate
Build bed platforms above wheel wells for under-bed storage
Install cabinets overhead reaching to the ceiling
Add shelving on walls, over windows, next to bed
Use cargo nets on ceilings and doors to hold loose items
Multi-Function Furniture
Convertible beds that fold up into benches or seats
Tables that drop down into small footprints when not in use
Collapsible furniture like folding chairs, stools, desks
Modular cabinetry that rearranges into different configurations
Removable Components
Cushions, curtains, and tables that can be taken out as needed
Portable stove, sink, and toilet for flexible room usage
Rail systems to reposition furniture, cabinets, and TVs at will
Under-Vehicle Storage
Lid organisers for vans with trunks
Sliding trays or drawers fitting under the van floor
Hanging cargo bags and hammocks utilising open space
Reflective Surfaces
Mirrors visually double small spaces
Light wall and ceiling colours reflect light around
Glossy backsplashes and wall panels add depth
We hope this comprehensive guide to DIY camper van conversions has inspired you to embark on your own exciting journey of transforming a simple van into a comfortable and versatile mobile home. From the selection of materials and designing the layout to incorporating essential components and installing electrical systems, we have covered a wide range of topics to assist you in creating the camper van of your dreams.
Remember, there are endless possibilities when it comes to personalising your camper van conversion. Add your own creative touches, unique design elements, and personal style to truly make it your own. With the right planning and a little bit of DIY spirit, you can create a space that reflects your personality and provides the functionality and comfort you desire.
Whether you're a weekend traveller, a digital nomad, or a long-term road warrior, a well-executed camper van conversion can offer the freedom and flexibility to explore the world on your own terms. So gather your tools, unleash your creativity, and let this guide be your companion as you embark on this rewarding DIY adventure.
Happy converting, and may your camper van journeys be filled with unforgettable memories and endless discoveries!
---
I'm John, the architect behind campervan designs. I'm passionate about creating innovative conversions, turning each van into the best van for camper conversion. I document my journeys through photography, drawing inspiration for unique campervan transformations that will leave you with the best camper van experience ever.
Author posts